New: the Escalib Mills MDS
14/09/2016
The new Escalib Mills MDS is a real breakthrough: a staircase with integral collective fall protection so that it can be erected and dismantled without using harnesses. This spiral worksite staircase now has only three prefabricated components: a base unit, a stair module which can be easily stacked by crane up to eight high, and a barrier to close off the top
.
Rather than get bogged down in a long description, watch the computer generated video [Objet inconnu] to discover the features that make it the leader in worksite staircases.
[jwplayer player="1″ mediaid="6765″]
Safe, easy access (all levels can be accessed without modifications).
Integral collective fall protection for erecting and dismantling without harnesses
Rapid erection and repositioning
Small footprint
Only three prefabricated components
Can be lifted using a crane
Compatible with 2 and 3 rail Escalib
Robust construction, galvanised finish (optionally powder coated)Escalib MDS adaptor kits for older Escalib.
Mills Escalib MDS online :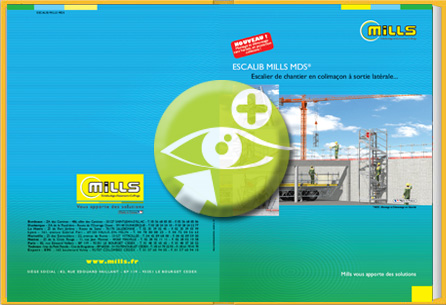 Contact us for further information. We are there to help you with advice and solutions to your problems !