Areas of activity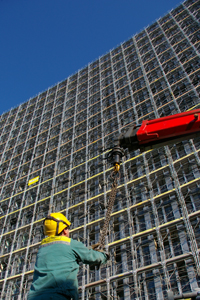 Mills is structured in a way that enables it to most effectively
meet the expectations of customers
, craftsmen, SMEs and large companies who require scaffolding, shoring, form work and event structures.
Mills is involved in public works, civil engineering, building and industry as well as public events and technical or decorative structures for shows.
In all these areas of activity,
MILLS has the experience and skills
needed to address a vast range of customer needs.
Our services:
Installation of site facilities and fencing
Unloading platform
Shoring and horizontal formwork for buildings, works of art
Creation of overhead, platform and rolling working spaces
Scaffolding for facades, cleaning
Scaffolding for historic monuments
Constructions for roof protection
Securing of affected buildings
Organisation of public walkways
Installation of site stairs
Installation of acoustic tarpaulins
Installation of decorative tarpaulins
Design of structures for shows
"There is no better combination than a little knowledge and a lot of know-how"